toothsi spark | teeth whitening pen
Inclusive of all taxes
Free Shipping
Who doesn't love to flaunt their bright smile? Be it posing for a selfie or laughing out loud, a smile is probably one of the best ways to express yourself. But wouldn't it be better if that smile was even brighter? Wait there's more. What if we told you that you could get that brighter smile, even when you're on-the-go? Say hello to our spark teeth whitening pen that fits in your pocket and gives you whiter teeth, anytime, anywhere. Order our whitening pen now and get it delivered within 7-10 working days. Price is inclusive of all taxes.
product details
Each pen lasts for about 9-10 uses and stays effective for several months. So go ahead and order a sparkling smile for yourself now.

Who is it for?
-People who want to have a pearly white smile!
-People who love to use cool gadgets
benefits
Easy to use.

Easy to carry.

Get immediate results.

Safe and hassle free.
how to use
Step 1: Rinse your mouth before using our spark teeth whitening pen.

Step 2: Shake the pen before use.

Step 3: Apply a thin layer of the whitening gel onto your teeth and wait for 30 minutes.

Step 4: Rinse your mouth with water and avoid drinking or eating for the next 30 minutes.

Repeat the same steps for your next use.

contents, ingredients
Active: Carbamide peroxide

Other Ingredients: Glycerin, Propylene Glycol Propylene Glycol, Aqua, Carbomer, Carboxymethyl Cellulose gum, Poly vinylpyrrolidone, Menthol, Sodium Hydroxide
enamel safe
travel friendly
FDA approved gel
get immediate results
teeth whitening, on-the-go
it's pocket-friendly (pun intended), so you can use it anytime, anywhere.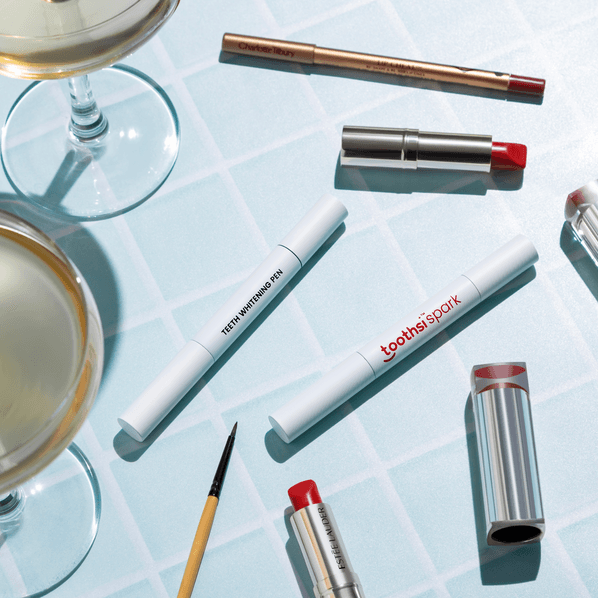 experience that perfect smile
be it on your way to work, just before date night, or even at a party!
backed by top experts
rest assured that it is totally safe for your pearly whites.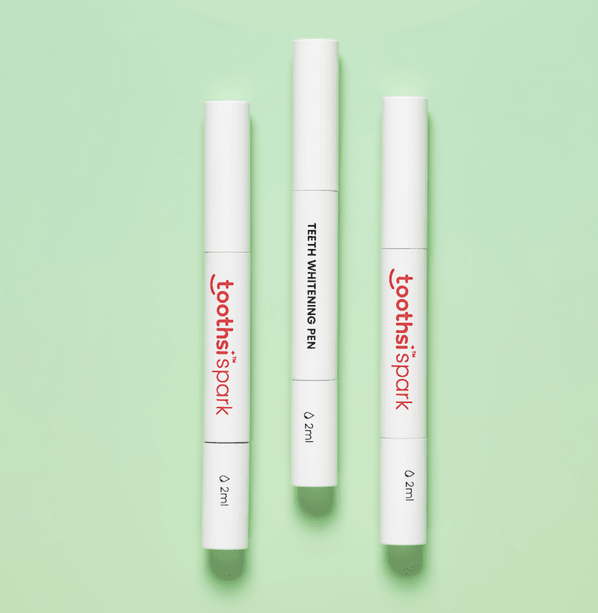 start your smile journey with free 3d scan
Faq
What is toothsi spark whitening pen?
toothsi spark teeth whitening pen helps you whiten your teeth. It easily fits in your pocket and is super easy to use. It's time to say goodbye to yellow teeth.
Why do I use toothsi spark whitening pen?
Are pearly white teeth are on your wishlist? Don't worry we got your back! toothsi spark teeth whitening pen helps whiten your teeth and is easy to use. It is safe for your enamel and has no sensitivity issues.
What are the ingredients of the gel?
The best thing about toothsi whitening gel is that it is recognized by global health regulatory bodies like FDA, CE, CPSR, and RoHs approved. It comprises Carbamide peroxide, Glycerol, Propylene Glycol, Deionized Water, Carbomer, Carboxymethyl, Triethanolamine, Polyvinylpyrrolidone, and Menthol.
What is the shelf life of the gel?
The shelf life of toothsi whitening gel is around 6 months.
Do I need to brush before using the spark pen?
Brushing or rinsing your mouth helps remove food particles that get stuck to your teeth, thus giving you the best results.
How do I get the gel out of the pen?
toothsi whitening pen is super easy to use. You just need to shake the pen a little bit and apply a thin layer of it to your teeth. Wait for 30 minutes, and then you should rinse your mouth thoroughly with tap wate
How long do I wait before eating?
Stay away from your favorite dish, or beverage for an hour, once you apply toothsi whitening gel to your teeth. In the end, your pearly whites will make you realize, it is worth the wait!
Is the gel safe?
Yes! toothsi spark whitening gel is safe and is orthodontist recommended.
How many maximum applications are recommended?
toothsi spark whitening gel gives you the pearly white teeth, you always wanted. We recommend a maximum of 14 applications for the best results.
Do teeth whitening pens have side effects?
The best thing is that you get at-home usage guidance from an orthodontist. Slight irritation is felt, if gel comes in contact with gums and lips. Apart from that, there are no side effects of toothsi spark whitening gel.
Do teeth whitening pens actually work?
Why not? toothsi spark whitening gel is the best product that is recommended by orthodontists and gives you pearly white teeth on the go.
How long does a teeth whitening pen last?
One pen of toothsi spark whitening gel lasts for about 9-10 sessions, which gives you white teeth which have long-lasting effects for about months.
After how many applications will I be able to see results?
toothsi spark whitening gel gives you pearly white teeth from the very first day. Every individual has uniques pair of teeth hence the shade may vary from person to person.
Is the whitening permanent?
Results may vary depending upon the shade of teeth. Moreover, the food and liquids, also affect the color of our teeth, so the results are long-lasting but not permanent.
For which type of teeth is it not suitable?
It is advisable to avoid using whitening gel in case you've decayed or discolored teeth.
Will I feel sensitivity after using the kit?
No, wouldn't have any problem after using the whitening gel. But a person with prior dental history can report slight sensitivity. In such cases, it is advisable to consult an orthodontist.
Can the whitening kit be used by pregnant ladies?
As suggested by orthodontists, pregnant women, breastfeeding mothers, and children below 14 years should avoid using toothsi spark whitening kit.