toothsi electro | smart electric toothbrush
Inclusive of all taxes
Free Shipping
Maintaining oral health is now easier than ever. Presenting toothsi electro: A truly smart toothbrush for you to take better care of your teeth and gums. Order now and get our electric toothbrush delivered within 7-10 working days. Price is inclusive of all taxes.
product details
Who is it for?
Anyone and everyone looking to maintain good oral hygiene, effortlessly!
What's in the box?
1 Electric Brush
3 Replaceable Brush Heads
USB Charger
User Manual
benefits
2-Min Smart Timer
Presenting a toothbrush which reminds you to change the brushing area. Isn't that awesome! The built-in 2 minute brushing timer encourages you to achieve the dentist-recommended time, and with a pause at every 30 seconds, it lets you know when to switch the brushing area to encourage a healthy brushing habit.
Long Lasting Battery
Gone are the days where you had to charge your electric toothbrush before every use. Electro can provide up to 7 days of usage (2 minutes / 2X a day) on a full charge. Not only that, electro can be charged via a phone adapter, a laptop or even a power bank, that means you can charge electro even while you're on the move!
Lock & Unlock
Q: How many brain cells does it take to change electro heads? A: None! It's that simple. Simply turn clockwise to lock and counter-clockwise to unlock the electric head for easy replacements.
Waterproof
The IPX7 waterproof design coupled with an airtight charging port covering prevents any water damage and allows the electro to be used even in the shower! That being said, we do not recommend using electro while snorkelling!
Travel friendly
Electro has a sleek design and is super light which makes it easy to carry and a perfect travel buddy. Fun fact: Electro can travel along with you without a ticket!
Brightens your Smile!
Electro drastically reduces coffee and tea stains within just a month of regular use
how to use
Step 1: Squeeze a coin sized toothpaste on the brush head, wet it and place head on your teeth
Step 2; Turn on the brush and slowly move it thoroughly from tooth to tooth.
Step 3: Glide it over the front, back and chewing surfaces of each tooth. The brush will prompt you to switch sides every 30 seconds and will shut off after 2 minutes.
Step 4: Rinse the brush head with water and wipe it dry with soft cloth.
contents, ingredients
1 electrobrush, 2 replaceable heads, 1 USB cable, User Manual
smart timer
IPX7 waterproof
ergonomic design
5 brushing modes
a truly smart toothbrush
its smart features give you a brushing experience like no other.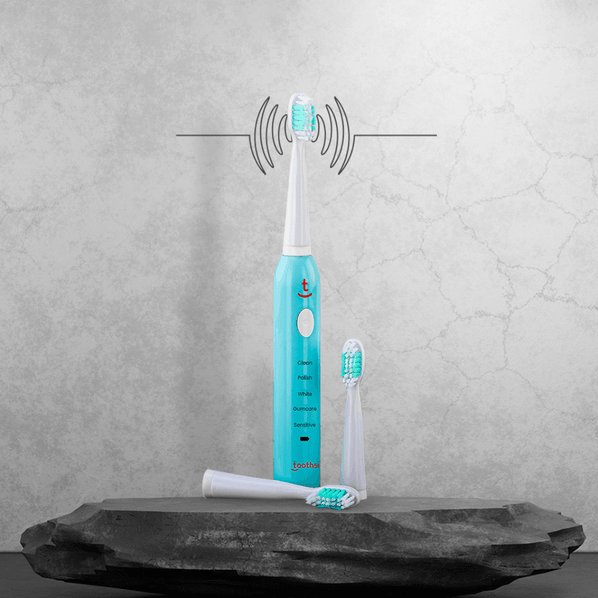 that's 133x more powerful
compared to a manual toothbrush, the electro's sonic tech is far superior.
it's all you could've asked
the electro is sleek, ergonomically designed, travel friendly, and just perfect for you!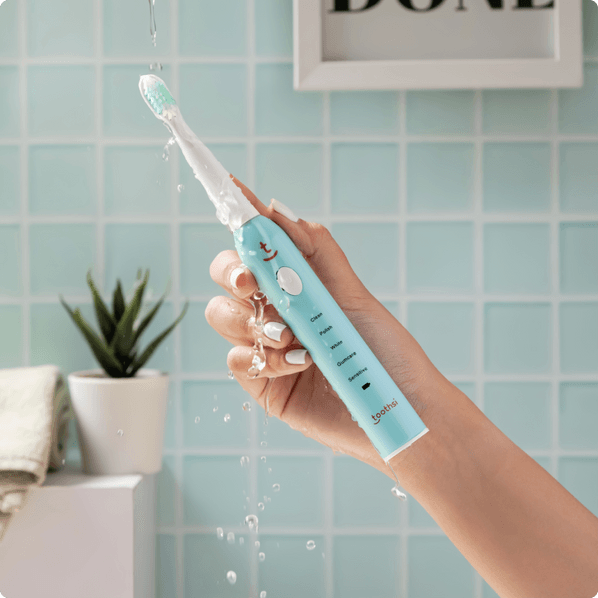 start your smile journey with free 3d scan
Faq
What is toothsi electro?
toothsi electro is your super cool and smart brushing assistant. It is highly recommended by orthodontists, as it keeps your gums healthier and gives 2X brighter teeth. Choose toothsi electro and switch to a smarter way of brushing
What are the features of toothsi electro?
toothsi electro has the following features: smart 2 minute timer smart memory 5 brushing modes IPX7 waterproof design sonic vibrational speed
What is the smart timer feature?
It is for sure a smart one! The smart timer feature calculates time and helps you effectively clean your teeth. After every 30 seconds it buzzes, and signals you to switch the brushing side of your mouth. Its 2-minute timer helps to turn off your toothbrush automatically.
What is the smart memory feature?
toothsi electro is smart memory enabled, that remembers your last brushing mode. So, the next time you use it. It'll automatically start with the mode you used last. It also has 5 brushing modes that enable you to get 2X whiter teeth and healthier gums.
What is sonic vibrational speed?
toothsi electro gives you a remarkable experience of brushing with 4000/minute vibrations. Which ensures you get 2X whiter teeth and healthier gums. This movement of bristles is called sonic vibrational speed.
What are the 5 brushing modes in toothsi electro?
The 5 brushing modes are Clean -effectively removes dental plaque Polish - brightens and polishes your teeth White - effectively removes surface stains Gumcare - lightly massages your gums Sensitive - genthly cleans teeth and gums
Is an electric toothbrush better than a manual toothbrush?
Yes, an electric toothbrush is better than a manual brush. toothsi electro gives you a sonic vibrational speed of 4,000/minute, thus giving you 2X whiter teeth and healthier gums. It is 133x better than a manual toothbrush.
Is it safe to use an electric toothbrush?
Absolutely! Electric toothbrushes is safe to use.
Are electric toothbrushes really better?
Yes, an electric toothbrush is better as it helps you effectively clean your teeth. toothsi electro gives you a sonic vibrational speed of 4,000/minute, which gives you brighter teeth and healthier gums.
Can an electric toothbrush be used on chipped teeth?
You should consult an orthodontist before using an electric toothbrush. In case you've had any dental problems earlier. It gives you higher vibrations as compared to an ordinary brush. Which may damage your chipped teeth.
Can we use an electric toothbrush daily?
Yes, you can use an electro toothbrush twice a day.
When should I replace the brush heads?
The brush head should be replaced every three months. They can also be replaced earlier, if needed.
Do electric toothbrushes make teeth whiter?
An electric toothbrush removes plaque, and stains more effectively than any other manual toothbrush making your teeth brighter and gums healthier.
Can an electric toothbrush loosen crowns?
Sonic vibrations of toothsi electro do not loosen your dental crowns. If you had any dental history before. You should consult an orthodontist before using an electric brush.
How long does one charge of toothsi electro last for?
Once it's fully charged, you can use toothsi electro for 2 minutes, 2 times a day. Its charge lasts up to 7 days.